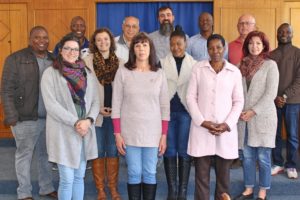 Our staff at Gospel Outreach consists of a multi-national group of believers who share one goal: the whole church to take the whole gospel to the whole world.
Reverend Eddie Vosloo
Reverend Eddie Vosloo is the founder, director and unwavering spiritual guide of the mission. Rev. Vosloo founded Gospel Outreach in 1978 and retired from a senior position in banking to join the work on a full- time basis in 1993. He has continued through all the changes, trials and triumphs of the mission over the last 40 years. He completed his theological studies and is an accredited minister in the Baptist Union of South Africa. Rev. Vosloo has a passion for the word of the Lord and for prayer, and he still teaches and preaches regularly.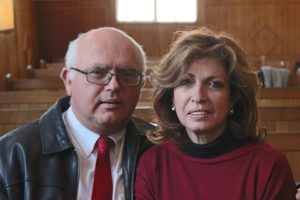 Trevor & Sonia Vosloo
Trevor Vosloo, our co-director, was also in banking and resigned from there to join Gospel Outreach on a full-time basis in 1995.  He completed his theological studies at the Baptist College of South Africa. Trevor travels often to rural areas in South Africa as well as Malawi, Mozambique, and Zimbabwe to do trainings and outreach. He also oversees the administrative and logistical tasks required to run the mission. Trevor teaches and preaches at our Germiston branch. Sonia Vosloo is active in many areas of ministry including children's work, women's ministry and she heads up all of our Portuguese ministry and member care. Sonia has a heart for people and a talent for making everyone feel welcome. Sonia gained a Bachelor's degree in religious education in Brazil. She and Trevor have two sons, Andre and Jonathan.
Hector Matyumza
Pastor Hector has been with Gospel Outreach since 1997. Hector serves as the discipleship and outreach pastor for Gospel Outreach and also heads up all of the teaching duties in our Soweto Bible college. He completed his theological studies through the Nazarene College in South Africa and was ordained as a Pastor in October 2005. If you have come to visit us here in Johannesburg you have likely gone out to evangelise with "Mfundisi" (the Zulu word for pastor). He has a passion to see souls saved and is dedicated to his work and to the Lord. Hector is married to his lovely wife, Bokang and has two boys, Musa and Njabulo and one daughter, Bophelo.
Rodgers Khoza
Pastor Rodgers Khoza joined the Gospel Outreach team in 2019. He runs a busy ministry in Pretoria and is involved in many different aspects of ministry there. He is currently working in two prisons in Pretoria, serving as the spiritual worker at an orphanage, as well as pastoring a church. He has a passion for evangelism and training and wishes to see everyone equipped for the work of the Lord. Pastor Rodgers  is married to Rebekah, and they have one son.
Noeline Hill
Noeline Hill joined Gospel Outreach in 1994 and is currently serving primarily in administration and finance. She is also one of our musicians and plays the piano on Sunday Mornings. She has been with Gospel Outreach for 24 years, and has served faithfully in many roles within the mission. She is the daughter of our founder and director Eddie Vosloo and works closely with him typing and producing various materials he puts out for the mission. Noeline has a Certificate in Christian Ministries from the Baptist College of South Africa. She is pictured here with her husband, Rhett.
Jarred & Megan Etheredge
Jarred and Megan Etheredge are the directors of our Children's and Youth Ministry. They oversee a variety of ministry in this area, including (but certainly not limited to) Kids and Youth Club meetings on Fridays, Children's and Youth Sunday School, our Vacation Bible School, and teaching bible stories at a nearby school. Jarred also oversees our Agricultural ministry and travels often to help with teaching and pastor trainings. Jarred and Megan have been with us since 2014 and are here from the USA. Jarred was previously the Children's Pastor in Pampa, Texas. Jarred and Megan have 4 kids– Allie, Jadyn, Slade, and Christopher.
Lovemore Nkomo
Lovemore Nkomo works primarily in our Children's Ministry program at our Germiston branch where he takes part in and leads many activities. He participated in our Bible College and joined our staff in 2016 after being a member of the congregation. Lovemore has a true servants heart and is always willing to join in and help wherever he is needed. He helps often with the agricultural ministry and evangelism. He is pictured here with his wife, Itumeleng, and they also have two beautiful children, Thabo and Sithokozile.
Cresencia Sibanda
Crescencia Sibanda has been with the Gospel Outreach family for over 15 years, and has been on staff us since 2009. She has participated in many areas of ministry including children's ministry, women's ministry and social outreach ministry. Crescencia's soft spoken nature and gentle spirit have made her a valuable part of our nursery ministry, leading the smallest of our members in learning the foundational truths of God's love for them. Crescencia's love for the Lord and desire to serve Him are evident quickly upon meeting her and has been passed down to her son, Nkosikhona. She graduated from our Bible College.
Cebi Veldsman
Cebi Veldsman is our worship leader. She grew up attending Gospel Outreach and joined our staff in 2016 and now serves alongside those who taught her. If you have been to a Sunday Service with us, you will certainly remember this woman and her stunning voice, but more than that, her passion and love for the Lord. Cebi also teaches in our Youth Sunday school program. Her daughter, Hope, is well known around our church for knowing the books of the Bible better than some adults we know!
Zwelithini Mkhwanazi
Zweli is our newest staff member at Gospel Outreach. He came to the mission 4 years ago as the fruit of street evangelism. He was hired as an intern in 2018 and officially joined staff full-time after finishing his internship. Zweli is a part of our children's ministry team and assists with Sunday school, Kids Club and teaching at the nearby school during the week. He has recently begun working with the children in a nearby informal settlement where we have a church plant.